T-Rex 125 Children's Go-Kart Buggy, 125cc 4 Stroke
Guaranteed Lowest Price
Lifetime Free Tech Support — Live Person
Guaranteed Parts Availability
1 Year Warranty
Call 434-532-8147
BDX is the only online seller, in the USA, with full parts and phone technical support for this type of vehicle. Read from others who purchased from our competition --  click here.  Read the full case for buying only from BDX -- click here.
Call and speak to a live person -- no automated phone system.
DESCRIPTION
Children's buggy
125cc engine
Fully automatic transmission
25-35mph top speed
Chrome 6in front and rear rims
13in front and 14.5rear tires
6.5in ground clearance
0.5 gal fuel tank capacity
BENEFITS
This vehicle can come fully assembled or partially assembled -- see options. Partially assembled is the default.
PLEASE READ: CRITICAL SHIPPING INFORMATION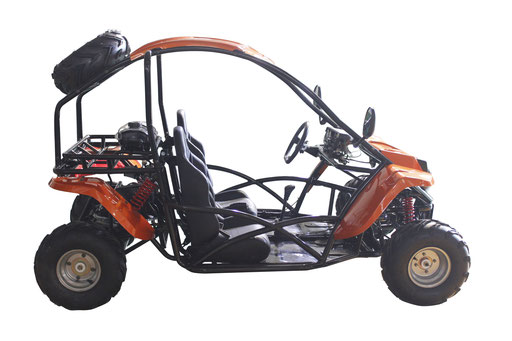 SPECIFICATIONS
Engine type:  125cc 4 STROKE Go - Kart
Seat:  Adjustable Bench
Transmission System:  Automatic with Reverse
Cooling:  Air Cooled
Max Speed:  25-35MPH (Depends on the condition of road and driver's weight)
Exhaust:  Pipe Muffler
Starter System:  Electric Start (CDI)
Brake System:   Front & REAR Disc
Tire Size:  FRONT - 13x5-6" REAR - 14.5x70-6"
L X W X H:  69" x 48" x 55"
Gauges:  Front HEADLIGHT & TAILLIGHT
Drive:  Chain & Gear Rear Driven
Battery:  12v.6.5Ah
Gas Tank:  0.5 Gallon
Range:  10 miles
Overall Weight Capacity:  295 LBS.
Ground Clearance:  6.5"
Net Weight:  287 LBS.
Weight:  N.W:652.5/G. W:690.2 LBS.
Climbing:  25 UP

Seat to pedal distance: 29.5 - 33.5 inches adjustable