DONGFANG - BEST MADE LINE OF BUGGIES ON THE MARKET: 
 We sell a lot of buggies and we have been dealing with buggies for two over decades.  The Dongfang line of GY6 buggies are the top-of-the-line best made GY6 class buggy ever built. Why?  See below and
our article on what makes Dongfang different:

 ATTRIBUTES
Full adult large size buggy that fits the big and tall person. 


Good looking buggy, built solid with the reliable 168.9cc GY6 performance engine with 61mm big bore piston and cylinder,  Others claim this to be a 200cc buggy but it is a 168.9cc


Fully automatic CVT transmission with reverse built within the engine case (F-N-R).  The efficient transmission system makes its 11 HP engine perform more like a 14HP.


The fully padded roll cage is connected with solid threaded heavy duty steel connectors.  
Chrome Alloy heavy duty 10" rims front and back.
Durable and padded sport bucket seats.  


Double wishbone suspension with over sized and extra long 17" independent front control arms for smooth articulating ride over rough terrain with 15" and 16" coil over shock suspension.



Oversized large 21" front and 22" rear tires for 7" of ground clearance for trail riding and riding over logs, ditches, ruts or large rocks. 
Easily up-gradable for more top end speed, low end torque and more raw horsepower. - See BDX PowerPak
SHIPPING
The shipping that is stated at check out is an estimate.  Your actual shipping may be less--call or

 

click here.  We also may be able to give you a better price on this vehicle since our cost to purchase are constantly changing.

OPTIONS
Option 1: 80% Assembled: 

 

Comes in a crate delivered by 18 wheeler on a pallet.  You complete the assembly and testing of your vehicle. See instructions &

 

not to do's and here is a somewhat cool

 

You Tube Video


Option 2:  Fully Assembled and Tested: 

 

With this option we deliver to your door fully assembled and tested and ready to ride.  Delivered by roll back or pickup truck with trailer..  Call for a quote.


Option 3: Dongfang PowerPak: 

 

The stock DF200GKA though built very well and with a powerful engine needs the

 

BDX PowerPak

 

of performance parts to fully tap the performance of the engine--Click to review.
Option 4: You Pickup. You can pickup your vehicle from one of our warehouses including TX, CA, GA, VA and other locations around the country: Call us and we will remove the shipping fee.
We are the only seller that carries a full line of replacement parts for vehicles that we sell.

Ten Reasons Why BDX is the only place to purchase your vehicle - click here
Call to check color availability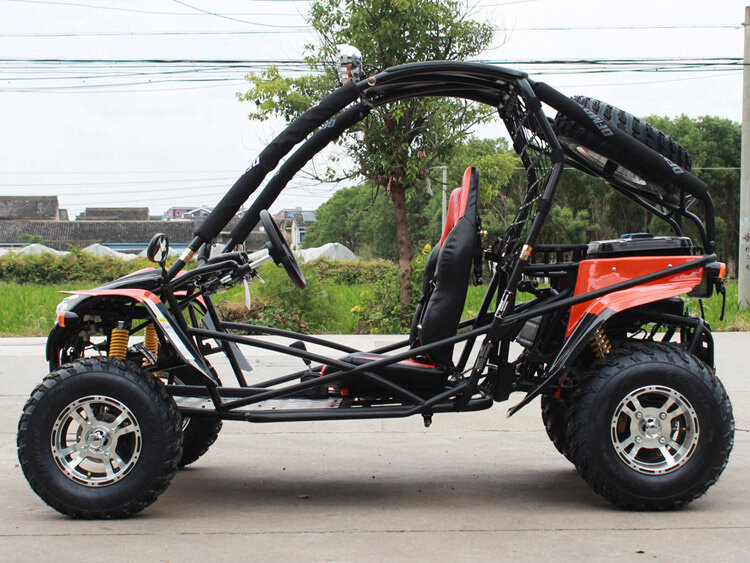 SPECIFICATIONS
1) Engine type: single cylinder, 4-stroke, horizontal type, air-cooled
2) Displacement(ml): 168.9
3) Max Power(kw/r/min): 8.3 KW/8000 R/MIN
4) Max Torque(N.m/r/min): 11NM /6000 R/MIN
5) Ignition system: CDI
6) Gear : CVT(F+N+R)
7) Fuel tank capacity(L): 10
8) Economical oil exhaust (L/100km): 4.7
9) Max speed: 37mph
10) Transmission: Belt Drive and Chain Drive
11) Brake Type(front / rear): Disc / Disc Brake
12) Wheelbase: 63.77in
13) Ground clearance: 7.87in
14) Tires (front / rear): 21*7-10 / 22*10-10
15) N. W.: 952lbs G. W.: 622
16) Product dimension(mm): 2330*1500*1500
17) Carton dimension(mm): 2350*1125*630