DongFang Solo 80GKS Children's Go-Kart, 4-Stroke 80cc
Guaranteed Lowest Price
Lifetime Free Tech Support — Live Person
Guaranteed Parts Availability
1 Year Warranty
Call 434-532-8146
BDX is the only online seller, in the USA, with full parts and phone technical support for this type of vehicle. Read from others who purchased from our competition --  click here.  Read the full case for buying only from BDX -- click here.
Call and speak to a live person -- no automated phone system.
DESCRIPTION
Children's buggy
80cc engine
Fully automatic transmission
Speed limiter.  You have the option of dialing the speed down to a crawl for safety and training purposes.
Remote kill switch.  From the comfort of your porch you can kill the engine with the press of a remote button if you see a child headed for danger.
Pull start
20mph top speed
6in front and rear rims
13in rear tires
2.75in ground clearance
.95 gal fuel tank capacity
If you get this kart be sure to re-install the torque converter cover after replacing the belt.  Long hair can get caught in the torque converter and literally rip a child's scalp off.  ONLY get this vehicle if you will be diligent about re-installing the torque converter cover.  

The other option is to get a go-kart with a modern engine where all of this is encased inside of the engine.  Call if you have questions.
JOIN OUR DONGFANG FACEBOOK GROUP
BENEFITS
This vehicle can come fully assembled or partially assembled -- see options. Partially assembled is the default.
PLEASE READ: CRITICAL SHIPPING INFORMATION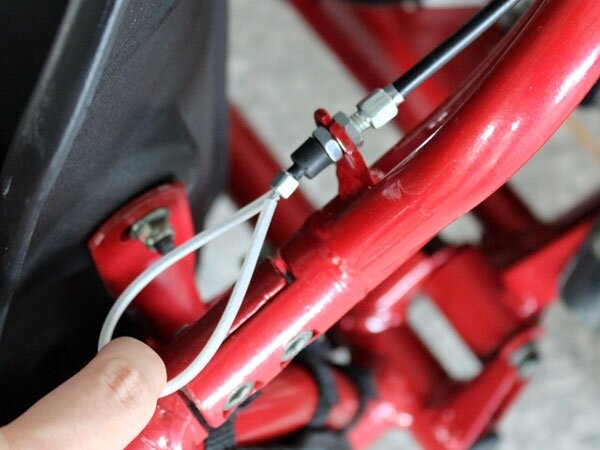 SPECIFICATIONS
Engine: Air cooled, Single cylinder, 4 Stroke
Engine Type (ml): 79.4
Starter: Easy Pull Start
Gear: Drive
Transmission: Chain Drive
Driving wheel: Rear Wheel Drive
Max Power: 2.5@5500
Max Speed: Est 20mph
Cooling System: Air Cooled
Controls: Ignition, Kill Switch
Kill switch Yes
Speed limiter: Yes
Fuel Capacity: 0.95 gal
MPG: 80
Ground Clearance: 2.75in
Wheelbase: 39.37in
Brakes Rear: Disc
Tires Front: 4.10-6; Tires Rear13*5-6
Rear Suspension: Hydraulic Coilover
Wheel Size: 6in
Weight Capacity: 220lbs
N.W.: 152lbs G.W.: 169lbs
Overall Length: 57.48in; Overall Width: 32.67in; Overall Height: 38.97in
Seat Height:: 7.08in
Distance from Seat back to Pedals: 26~30in
Steering wheel to Seat Back: 20.5in