DongFang Wrangler 200GKX Adult Go-Kart Buggy
Guaranteed Lowest Price
Lifetime Free Tech Support — Live Person
Guaranteed Parts Availability
1 Year Warranty
Call 434-532-8146
BDX is the only online seller, in the USA, with full parts and phone technical support for this type of vehicle. Read from others who purchased from our competition --  click here.  Read the full case for buying only from BDX -- click here.
Call and speak to a live person -- no automated phone system.
DESCRIPTION
JOIN OUR DONGFANG FACEBOOK GROUP
Medium sized buggy for smaller adults

Good looking buggy, built solid with the reliable 170cc GY6 performance engine with 61mm big bore piston and cylinder, Others claim this to be a 200cc buggy but it is a 170cc
Fully automatic CVT transmission with reverse built within the engine case (F-N-R). The efficient transmission system makes its 11 HP engine perform more like a 14HP.

35 to 45 mph top speed depending on performance parts added.

The roll cage is connected with solid threaded heavy duty steel connectors.
Heavy duty 10" rims front and back.
Durable and padded sport bucket seats.
Double wishbone suspension with over sized and extra long 17" independent front control arms for smooth articulating ride over rough terrain with 15" and 16" coil over shock suspension.
Oversized large 21" front and 22" rear tires for 6" of ground clearance for trail riding and riding over logs, ditches, ruts or large rocks.
Bright LED headlights plus a bright overhead lightbar on the top frame, Signal lights, emergency flashers and rear tail light good for night trail riding.
Easily up-gradable for more top end speed, low end torque and more raw horsepower.
BENEFITS
This vehicle can come fully assembled or partially assembled -- see options. Partially assembled is the default.
PLEASE READ: CRITICAL SHIPPING INFORMATION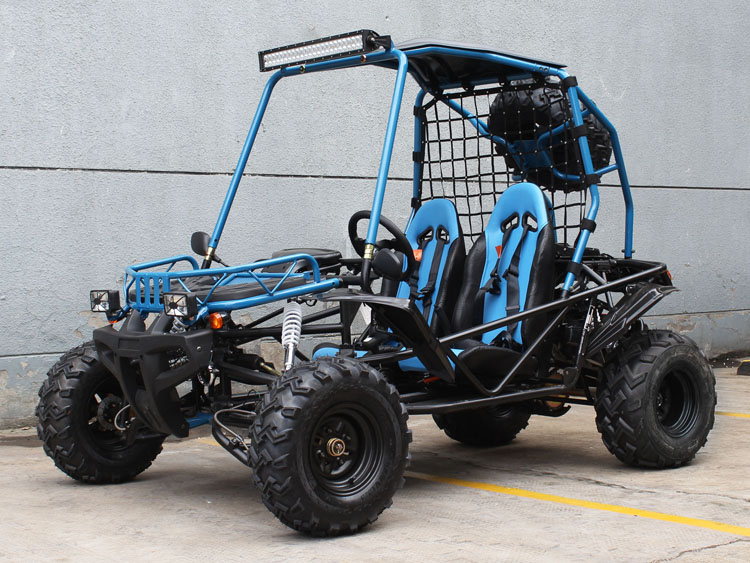 SPECIFICATIONS
Engine type: single cylinder, horizontal type, 4-stroke, air-cooled
Displacement(ml): 168.9
Max Power(kw/r/min): 8.3/8000
Max Torque(N.m/r/min): 11.0/6000
Ignition system: CDI
Gear: CVT(F+N+R)
Fuel tank capacity: 2.64 gal
Economical oil exhaust(L/100km): 4.7
Max speed: 37mph
Transmission: Belt Drive +Chain Drive
Brake Type: Disc/Disc Brake
Wheelbase: 72.04in
Ground clearance: 6.29in
Tires (front / rear): 21*7-10/22*10-10
N. W.: 586lbs G. W.: 679lbs
Product dimension: 94.48*62.59*64.17in
Carton dimension: 86.61*47.24*24.4in