Kinroad Monster 200GK-10 Adult Go-Kart
Guaranteed Lowest Price
Lifetime Free Tech Support — Live Person
Guaranteed Parts Availability
1 Year Warranty
Call 434-532-8146
BDX is the only online seller, in the USA, with full parts and phone technical support for this type of vehicle. Read from others who purchased from our competition --  click here.  Read the full case for buying only from BDX -- click here.
Call and speak to a live person -- no automated phone system.
DESCRIPTION
Full adult size buggy.
170cc engine
Fully automatic CVT transmission with reverse
40mph top speed
Chrome rims
.23 gal fuel tank capacity
Some Kinroad buggies are built somewhat light duty. We don't recommend them if you plan on jumping or rough riding. We have had to rebuild the engine swing arm on one Kinroad Explorer that we sold to some rough riding country boys.

We have been disappointed with the welding and paint jobs on some of these buggies. Welds have looked cosmetically very bad. And the paint job on one was very poor. If these thing matter to you then avoid this unit. On the other hand we have customers who are riding Kinroad products for many years. We just want you to be aware of what you are getting.
BENEFITS
This vehicle can come fully assembled or partially assembled -- see options. Partially assembled is the default.
PLEASE READ: CRITICAL SHIPPING INFORMATION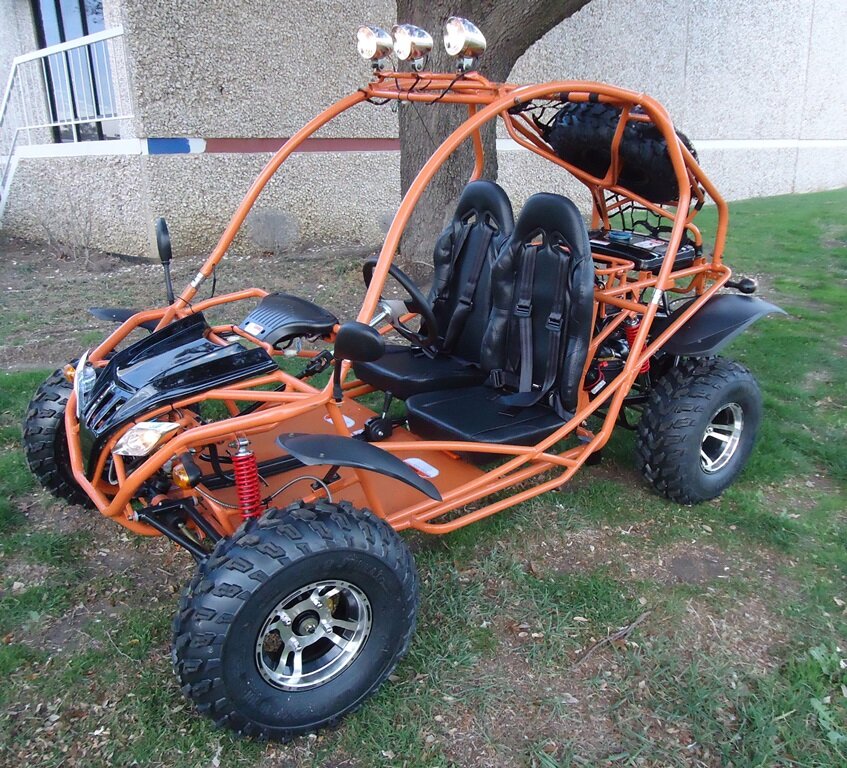 SPECIFICATIONS
Engine type: 4 Stroke
Displacement(cc): 170
Cylinders:1
Cooling System: Forced Air
Clutch Type: Automatic,Centrifugal
Power Stipulated: 7.6Km/7000RPM
Max.Torque(N/M): 11N.M/6000RPM
Starting System: Eletric Starter
Style: CDI
Suspension: Hydraulic
Front Brake/Rear Brake: Disc
Fuel Tank Capacity(Gal): .23
Gear Oil Type: 85W90